The great beaches of the Gulf of Ajaccio: from Sanguinaires to Coti-Chiavari, Porticcio and Isolella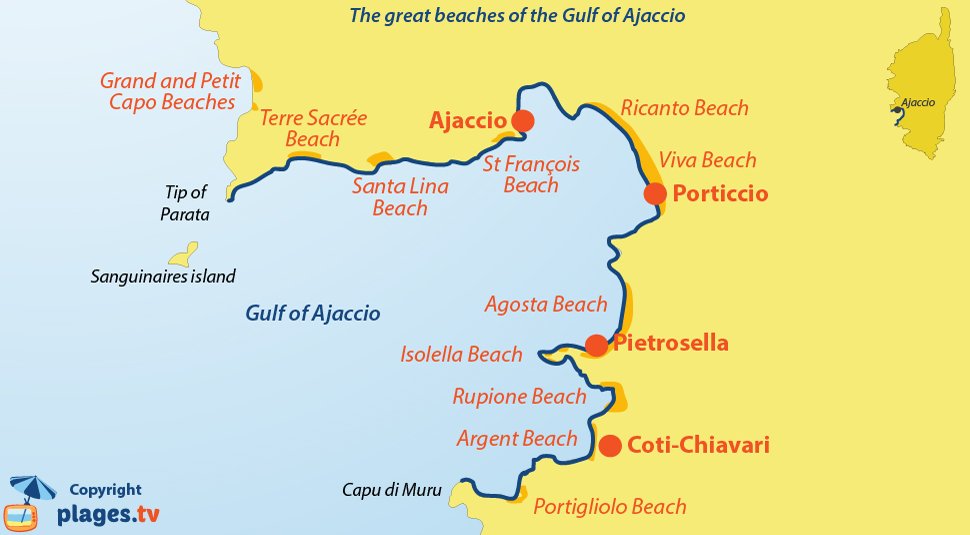 The Gulf of Ajaccio is one of the treasures of Corsica. The sandy beaches are more or less crowded.
The northern part of the Gulf of Ajaccio is the most touristic area in summer. Thanks to Ajaccio, there are many activities off-season. Most of the beaches are located along the Sanguinaires, which provides access to the tip of Parata. The various beaches are very nice and very diversified (coves, creeks and large beaches). The various private beaches of Ajaccio are located there; there is lots of choice! In season, it is possible to rent mattresses or eat directly on the beach. The beautiful beaches of Petit and Grand Capo are located nearby (geographically, they are outside of the Gulf of Ajaccio, but it is impossible not to mention them, they are very beautiful and wild).
The seaside resort of Porticcio is located deep in the Gulf, which is often mentioned as the seaside resort of Ajaccio. The beach of the city center is large and very well equipped. One can even walk to the beaches at Ajaccio by Ricanto (beach near the airport). Those who appreciate comfort will find the private beaches of Porticcio at the city center.
The south of the Gulf of Ajaccio is less touristy. Yet, there are beautiful beaches! We love the peninsula of Isolella with its many small coves. There are also great beaches with a beautiful view of the Iles Sanguinaires. The beaches of Rupione and Argent are located south of the peninsula, which are often mentioned as the most beautiful.
After Capu di Muri, one reaches the Gulf of Propriano, which is wilder and less touristy. The Gulf of Sagone is in the north, with different scenery but not very lively out of the summer season.
Beaches in the Gulf of Ajaccio: Porticcio, Isolella Pietrosella, Coti Chiavari and Ajaccio