Information on the different Corsican coastlines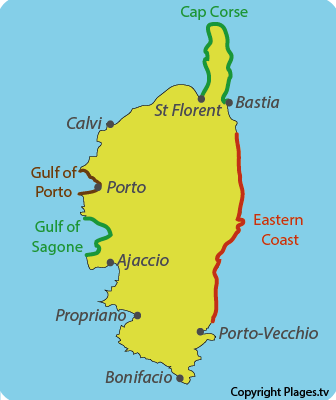 After traveling to Corsica, PlagesTV summarised for you the different coastlines that make up the island of beauty in order to better plan your next vacation. Going from east to west is not always easy, it is thus essential to choose a destination based on the type of Corsican beaches that one is looking for (sand, pebbles, very touristic or not, big or small beach). There are many little tourist sites in Corsica where one can find beautiful beaches.

In the north, Cap Corse is recommended for those who enjoy walking and the authenticity. The East Coast and its great beaches with sand as far as the eye can see are family-oriented. The naturist beaches of Corsica are also located in this area (Central Coast). To the west, the desert of the Agriates is only reserved for adventurers (difficult access), Calvi and its surroundings are very family-oriented with lively resorts. The Gulf of Porto is less family-oriented in our opinion because the beaches are scarce and they are difficult to access (such as the roads...).

The beaches of southern Corsica are the best known but also the busiest! Porto-Vecchio is highly sought-after (especially by the Italians) and one can find the most beautiful beaches of Corsica. The clientele is young and easy. West, the Gulf of Ajaccio is also the leading seaside destination. The Gulf of Propriano is also appreciated but only frequented in summer. Further south, Bonifacio with its tall cliffs is also interesting (but the beaches are outside).
The coastline of Cap Corse

Authenticity, beautiful seascapes, beautiful secluded beaches and numerous hiking possibilities. Long live Cap Corse!
The eastern Coast

Long sandy beach; pretty low attendance in summer but the charm is reduced with few activities. This is the East Coast.
The Gulf of Porto

The Gulf of Porto and the Calanches of Piana are among the wonders of Corsica. To discover by boat or steep road.
The Gulf of Sagone

North of Ajaccio, the Gulf of Sagone offers a sandy coastline with great beaches and some unknown seaside resorts.
The Gulf of Ajaccio

On the west coast, the Gulf of Ajaccio is one of the Corsican treasures with many beaches and coves. Activities in summer.
The Gulf of Propriano - Valinco

South of the Gulf of Ajaccio, the Gulf of Propriano offers beautiful sandy beaches in a protected environment with some wild beaches.