The most beautiful beaches of the island of Oléron - Map, Reviews and Photos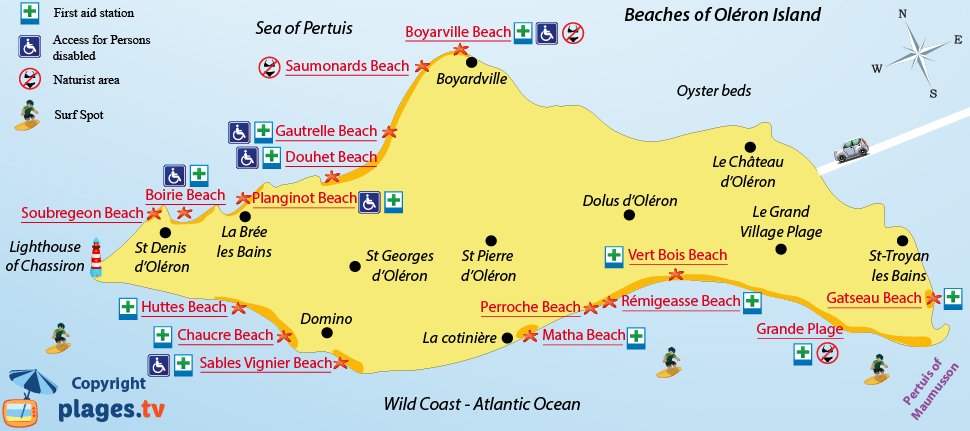 The island of Oléron is one of the three islands of Charente-Maritime and the second largest metropolitan island after Corsica. The most beautiful beaches of Charente-Maritime are located there. It is easily accessible from the continent by a free viaduct; the beaches of Oléron are packed in summer and on weekends. If you can, come in June or September.
One comes for the holidays on Oléron to enjoy the beaches. The map above shows the different swimming areas.
The northeast coast opens onto the sea of Pertuis. It is recommended for families with children because the sea is calmer. However, the tides are stronger than on the Atlantic but one can alternate the pleasure of swimming with the pleasures of shore fishing. The nearest villages are Boyardville, La Bree les Bains and St Denis of Oléron.
The West Coast is directly opposite the Atlantic Ocean. It is appreciated for its waves and large sandy beaches bordered by large dunes. Tides are milder but the waves are larger! The most famous beaches (but also the most popular) are located in the south up to the Grand-Village-Plage, Vert-Bois or St-Troyan-Les-Bains. There is sand as far as the eye can see.
The Southeast Coast of the Castle of Oléron is less suitable for swimming. There are oyster parks and the sea withdraws from several hundred meters at low tide (there are one or two areas where one can swim for only two hours a day).
Click on the title or image to see our reviews and photos of a beach on the island of Oléron