Information on the French Atlantic Coast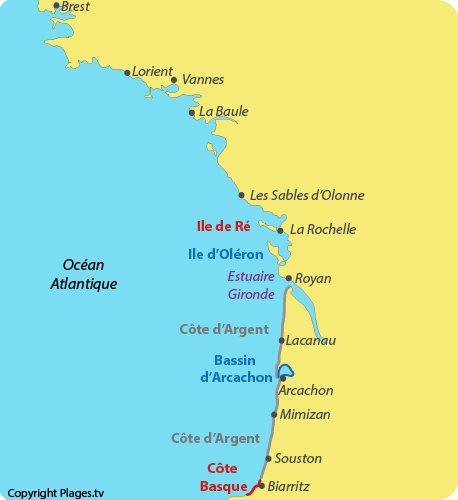 The Atlantic Coast, located in western France, attracts many summer visitors. Attendance is very significant even if the water temperature is lower than on the beaches of the Mediterranean and waves are larger. The beaches are wider and offer well-preserved settings outside the big seaside resorts of the Atlantic Coast.
Southwest, the Basque Coast is the most authentic with a rocky coastline mixed with beautiful sandy beaches in a typically Basque environment. Then there is Côte d'Argent, which is characterized by long sandy beaches bordered by a dense forest and a developed dune area. Arcachon Bay intercepts the coast. It is a very pleasant summer destination (but deserted off season).
The resorts of Charente Maritime are located north of the estuary of Gironde. On the mainland, swimming suffers from the tides. The most beautiful spots are on the islands of Charente. Then the beaches of Vendée, vast and well maintained, attract a very family-oriented population.
Brittany is located further north, with rockier landscapes. Southern Brittany is a little buffer zone. The sea temperature in summer is nice and one can find the most renowned resorts of Brittany. The Gulf of Morbihan with the peninsula of Quiberon are must-see. Then the coast becomes rockier with the typical landscapes of Brittany that attract nature lovers.