Information on Cap Corse and the various beaches and creeks - Corsica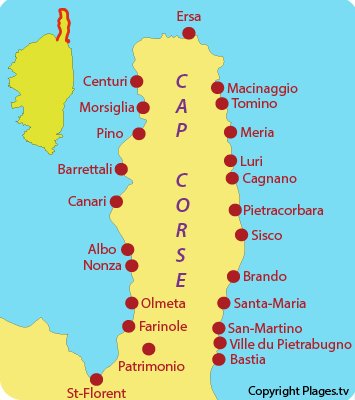 Cap Corse stretches in northern Corsica from St. Florent southwest to Ersa in the north and Bastia in the southeast. It is difficult to cross from east to west because of a rocky ridge, which rises to over 1300 meters; one crosses it between Bastia and St Florent or between Centuri and Macinaggio. The departmental road follows the coastline but the road is in very bad condition, which makes Cap Corse less touristic than the rest of Corsica. Yet, it is a compendium of what we can see on this island of beauty. The greatest diversity of the beaches of Haute Corse is located on this cape but there are also various villages, which kept their authenticity.
On the West Coast, the beaches of Cap Corse are mostly covered in pebbles. In Nonza, there is an original beach covered in black pebbles, which is very rare. A few sandy beaches are scattered along this coast (Farinole for example). Note that Centuri is famous for its lobsters.
On the East Coast, traffic is lighter. There are many small marines (small Corsican fishing ports) often surrounded by a Genoese tower. The beaches east of Cap Corse are still largely covered in pebbles but there are some exceptional sandy beaches like those on the coastal path of Macinaggio.
It is quite difficult to find accommodation in Cap Corse; there are a few campsites, hotels and vacation rentals. The most important resort is Macinaggio.
Where to bathe in Cap Corse - the main destinations in Cap Corse
The beaches in the Cap Corse