Beaches of Côte Vermeille (France) - Photos, Reviews and description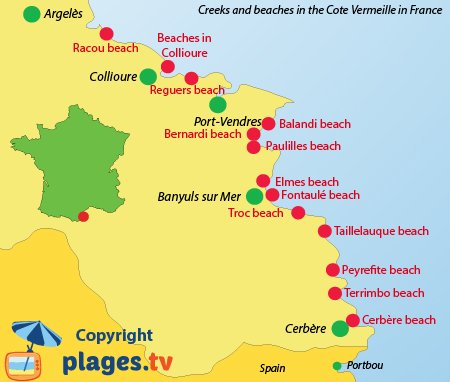 After the great sandy beaches of Languedoc Roussillon, there are the beaches of Côte Vermeille with its rocky coastline and small coves.
The coast begins south of the resort of Argelès-sur-Mer and ends at the Spanish border in the picturesque resort of Cerbere, which is 35 km long and leads along the coast by the cornice in a landscape of vineyards and beaches. Several caps make up this unique landscape like those of Béar or Réderis where one can enjoy magnificent views of the neighbouring coasts (including Catalonia).
There are small discrete and less crowded creeks (see details below) next to the famous beaches of Côte Vermeille. Beaches or creeks are usually covered in pebbles; there are only a few beaches on Côte Vermeille.
North of Côte Vermeille (above the port of Argelès), one can find the sandy coast of Pyrenees Orientales with its great beaches that are practically uninterrupted to the department of Gard, Aude and Herault.
Click on the title or image for more details on the beaches of Côte Vermeille