Côte d'Albâtre: beaches and unique resorts on the coast of Normandy in France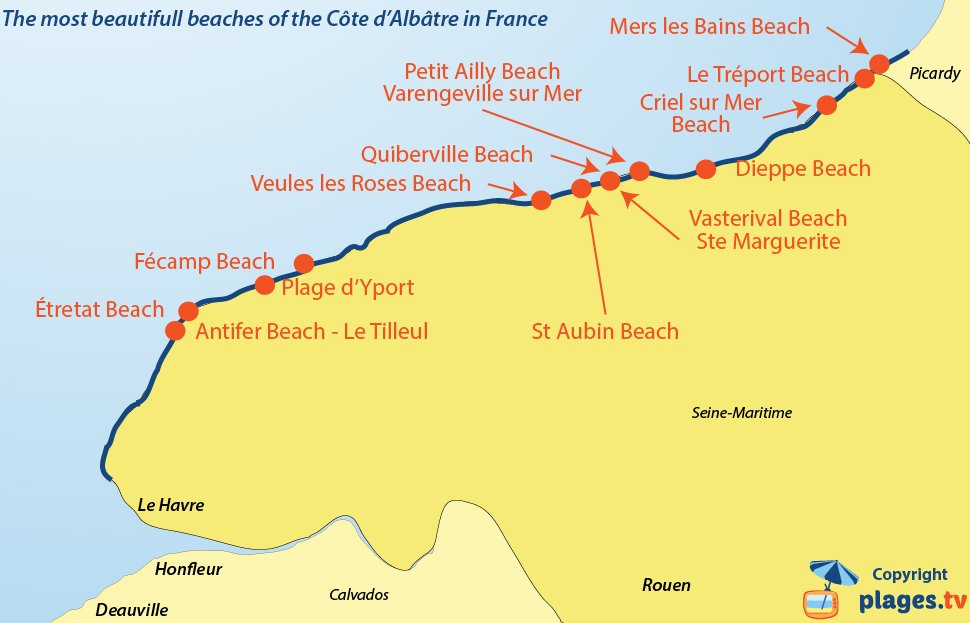 Côte d'Albâtre, with high white chalk cliffs (up to 120 meters high), stretches from Le Havre to Tréport on the entire coast of Seine Maritime (Upper-Normandy, one can also include Mers les Bains and Ault in Picardy). In a few remarkable points, there are valleuses sheltering pebble or sand beaches. The so-formed landscapes are unique in France.
Some cities are a must on Côte d'Albâtre. One immediately thinks of Etretat, Fecamp and Yport, which are the three symbol of this region. One can also enjoy Dieppe, which is the oldest French seaside resort (which is also the nearest beach for Parisian).
As for the beaches of Côte d'Albâtre, there is a lot of choice and it offers something for all tastes. You can view our complete list of beaches in Seine-Maritime organized by seaside resorts. See below the list of must see destinations on Côte d'Albâtre, which have beautiful beaches. Even in summer, traffic is fairly fluid in the area; one can easily travel to discover our different beaches, some of which are totally confidential.
Côte d'Albâtre in France: the most beautiful beaches and creeks - Photos, reviews and instructions to get there