Beaches and Coasts along the English Channel in northern France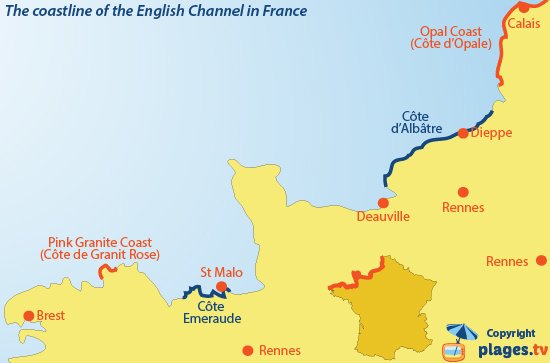 The Channel stretches from the Tip of Corsen (border with the Atlantic Ocean, the town of Plouarzel in Finistère, Brittany) to Calais (border with the North Sea at the Lighthouse of Walde, Northern Region of Pas de Calais).
The coastline of the English Channel offers many different landscapes. The Breton part is the most rugged area, but probably the most typical with evocative names (Legends, pink granite, Goëlo, Emerald...). Côte Fleurie is located further north, around the famous resort of Deauville, with its vast sandy beaches. Then there is Côte d'Albâtre, which offers high cliff landscapes in which interesting beaches are hidden. Then, note that there is a break with Côte d'Opale and its beaches stretching for kilometres.
For full details of the beaches along the English Channel, we advise you to check the complete list of beaches in Brittany, Normandy, Upper Normandy, in Picardy and Nord-Pas-de-Calais. You will find various seaside resorts and beaches that our team has visited (including the most secret places).