Information on the Camargue region and its beaches
Camargue is divided into four areas and offers various landscapes depending on one's location and stretches to the departments of Bouches du Rhône and Gard.
The western part between Le Grau du Roi and Saintes Maries de la Mer is the most touristic area. In summer, the seaside resorts of Grau du Roi and Port Camargue attract great crowds. The beaches are family-oriented and easy to access. Those who love solitude will go to Espiguette Beach, which is in our opinion the best beach in Camargue. Saintes Maries de la Mer is the symbol of Camargue with small-whitewashed houses, horses, bulls and rice fields. It is a very touristic place but the coastline is remarkable with the beginning of the Gulf of Beauduc.
Then, there is Arles. The wildest and most beautiful beaches in Camargue are located there (around Salin de Giraud). The beaches stretch to infinity in the middle of ponds and salt marshes.
On the other side of the Rhone, Port Saint Louis is the most recent addition of the Camargue Park. Napoleon Beach looks like the other beaches in Camargue and stretches several kilometres.
The beaches of the Blue Coast are located further east and offer a rugged coastline, which stand in contrasts with the long stretches of Camargue.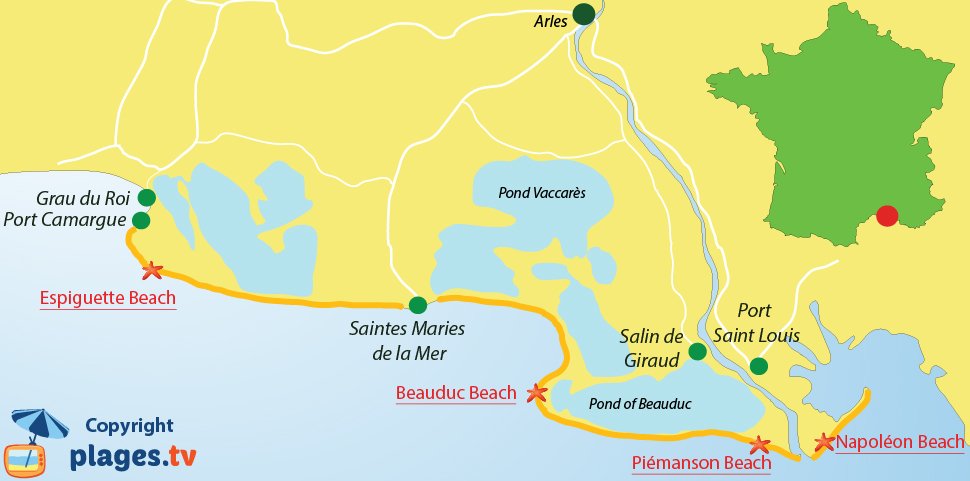 The various beaches in Camargue - Click on the picture or on the name of the beach to find out.