Information on the beaches and creeks of the Blue Coast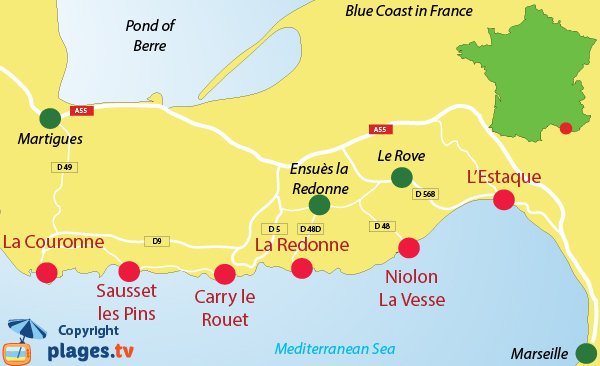 The Blue Coast is located in the department of Bouches du Rhone. It begins west of Marseille at the Estaque and ends in La Couronne (Martigues seafront). The beaches of the Blue Coast are less known than the creeks of Marseille and Cassis. Yet, locals like western beaches as much as the eastern ones and the lucky ones have a shed in one of the creeks of the Blue Coast, which are considered as Marseilles beaches.
The first part of the Coast (from the end of Estaque to Carry le Rouet) is very rugged. There are not many roads and they are quite difficult to access (some creeks are not accessible by car in summer, it is recommended to take the train). One benefits the most from the rocky coast and the remarkable views over the bay of Marseille and the archipelago of Frioul through the path of the Douaniers (does not necessarily reach the seafront road). The creeks of the Blue Coast are very popular with diving enthusiasts. Some are accessible through narrow roads (La Vesse, Niolon, Mejean, Figueres and La Redonne). For the others, one will have to walk or cross the sea. In the eastern part of the Blue Coast, the various beaches are covered in rocks or pebbles.
From Carry le Rouet to La Couronne, the coast is less rough and the seaside is more oriented towards seaside tourism. The most beautiful sandy beaches of the Blue Coast are located in La Couronne.
As an extension of the Blue Coast to the west, one can enjoy the beaches of Camargue, which are easily accessible from Port Saint Louis by ferry.
Images of the beaches of the Blue Coast. Click on the title or on a photo for more details