The Gulf of Saint-Tropez: beaches and seaside resorts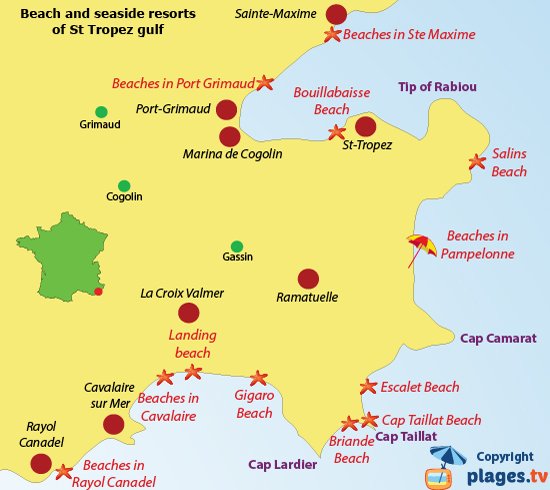 The Gulf of Saint Tropez is the most famous beach destination in the Var region. The city of St Tropez is the star with its port hosting the largest ships of the French Riviera. But the most beautiful beaches in Saint Tropez are located in Ramatuelle in the Bay of Pampelonne. Several kilometres long, the most famous private beaches are located in this bay, where champagne flows freely in summer.
South of the Gulf, the small seaside resort of Rayol-Canadel marks the entrance to the Gulf of St. Tropez. Then there is Cavalaire sur Mer, a small family-oriented resort. Croix Valmer is also appreciated for its rugged coastline where the beautiful beaches of the Var region are.
North of the Gulf, Sainte-Maxime attracts vacationers in search of authenticity. The view of the port of St Tropez and its bell tower is magnificent. Port-Grimaud is a nice marina with small internal channels.
Although the peninsula of Saint-Tropez doesn't have a very strong attendance in the heat of summer, there are still a few unknown and secret coves. The team of Plages.tv has travelled the whole peninsula on foot or by boat to share with you the secret areas of the Gulf.
The resorts of the Gulf of St. Tropez
The beaches in the Gulf of St Tropez - Click on the picture or the name of the beach to check it out