Information on the beaches and seaside resorts of the East Coast of Corsica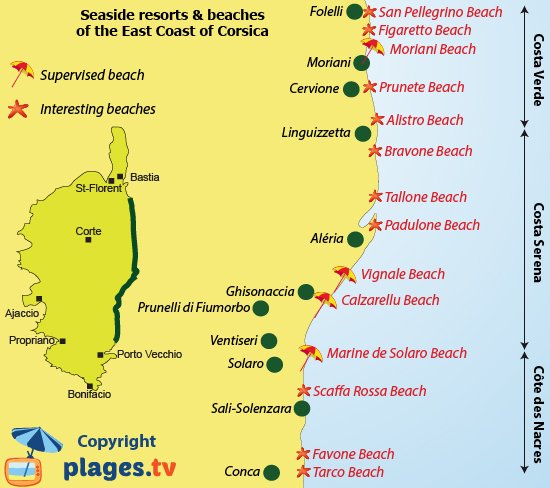 One long sandy coast stretches from southern Bastia to northern Porto-Vecchio, the East Coast (Côte Orientale). It is divided into three micro-regions: Costa Verde, Costa Serena and Côte des Nacres.
The various beaches of the East Coast are very similar to one another. From Southern Bastia (after the ribbon of dunes) to Conca, there is practically one long sandy beach stretching several kilometres, interrupted in some places by rivers flowing into the Tyrrhenian Sea.
The East Coast is mainly composed of small villages or hamlet by the sea. There is no major seaside resort. There are lively seaside resorts only in Moriani-Plage or Solenzara. The rest of the coast is unspoilt with only a few beach structures on the seafront. Note that the main naturist structures of Corsica are located in Linguizzetta. Attendance is reasonable even in summer and roads perpendicular to the highway lead directly to the beaches of the East Coast. The atmosphere is not festive like in Porto Vecchio but it is family-oriented. Note that there are very few monitored beaches but the sea is calmer than on the west coast where the roughest beach in Corsica are located.
Information on the East Coast by micro-region
Seaside resorts and villages of the East Coast of Corsica - Click on the picture or the name of the beach to check it out