Costa Serena in Corsica: beaches and cities near the sea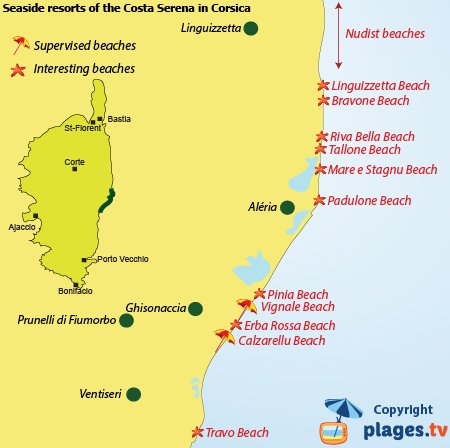 Costa Serena, on about sixty kilometres on the East Coast, stretches between the rivers Travo in the south and Alesani in the north. This vast area offers multiple activities (alpine skiing or swimming).
The beaches of Costa Serena are like the other beaches of the Eastern Shore of Corsica. It is a long sandy expanse almost uninterrupted for kilometres. There are only two monitored beaches south of this coast. The others are not but one can usually swim in a quiet and not very dangerous sea. There are some beautiful wild beaches like the ones in Pinia or Mare e Stagnu. Further north, the beach at the marina of Bravone offers some small creeks near beautiful holiday homes (rare in the region). The biggest naturist beaches in Corsica are located in Linguizzetta.
Note that there are several pools (Diana, Urbino and Palo) and oyster and mussel aquaculture is practiced. One can enjoy the famous mussels of the pool of Diane all over Corsica. Botargo (pink caviar) is made in the pool of Palo.
Note that most of the beaches in Corsica are dog friendly if they are on leash.
Additional information on the East Coast and Corsica
Beaches and resorts of the Costa Serena in Corsica - Click on the title or image for more details