Tourist information on the Gulf of Porto in Corsica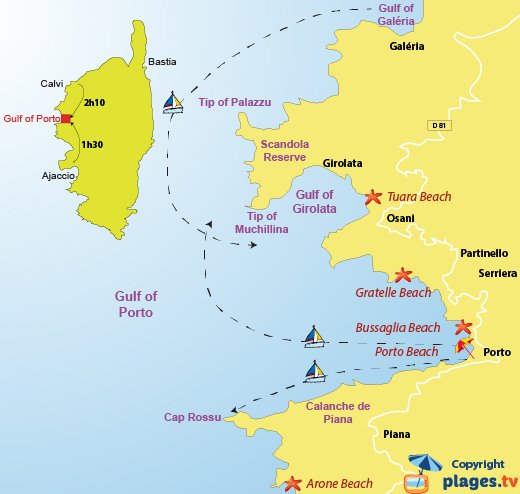 The Gulf of Porto, located in southern Balagne and north of the Gulf of Sagone, in the south of Corsica, is one of the tourist attractions of Corsica.
The Gulf of Porto in the north closes on the Scandola Nature Reserve (accessible only by boat, walking is prohibited) in the Gulf of Girolata, which is accessible by sea or by a mule track (there are houses but construction is now prohibited).
Calanche de Piana in the south attracts many tourists. There are few beaches in Piana and they are very difficult to access, especially at the Creeks. People come here especially to watch the colourful high cliffs flowing into the sea. The boat is the best way to discover them.
The most beautiful beaches in the Gulf of Porto and especially the most accessible are located around the city of Porto. They are often covered in small pebbles mixed with sand. Some are accessible by car but the most secluded ones must be earned and they are within walking distance.
The Gulf of Porto is interesting to discover the natural curiosities of Corsica. However, for swimming enthusiasts, it is advisable to visit the beaches of the Gulf of Sagone in the south, in the Gulf of Ajaccio or on the beaches of Calvi, which meet the demands of seaside tourism.
The most beautiful beaches in the Gulf of Porto and Girolata in Corsica