The Dune of Pilat, the highest dune in Europe, stands erect opposite the tip of Cap Ferret in Arcachon Bay (Bassin d'Arcachon). This breathtakingly beautiful sand monument, over 100 meters high, has not stopped expanding. 2700 meters long, 500 wide, it brings joy to millions of tourists who courageously climb it to enjoy one of the best views in the region and probably in France, the entrance to the Arcachon Bay and the famous "passes".
Whether one comes to admire the ocean or chooses it as the starting point of a paragliding ride in summer, it is the region must-see. Well developed, one can reach it by climbing up stairs or directly in the sand for the more energetic!
It is bordered on one side by a large pine forest and on the other by a beach, which is outstanding by its originality and of course its breathtaking panorama.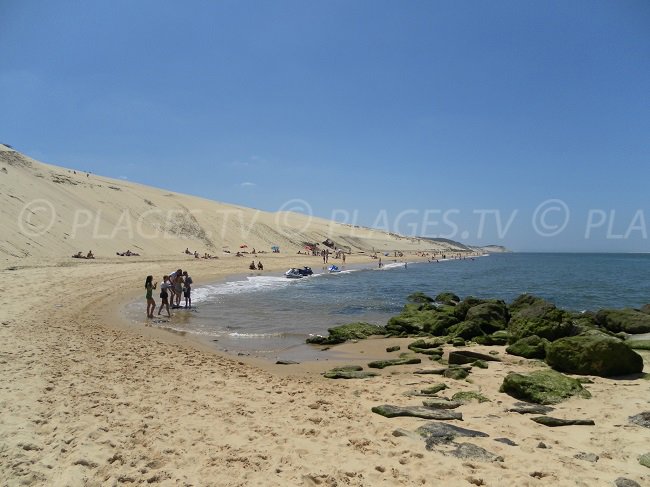 The beach at the foot of the dune of Pilat, which stretches several hundred meters
Corniche Beach, also known as Dune of Pyla Beach (or Teste, the name of the municipality to which it belongs, Teste-de-Buch), is located at the foot of the dune and is easily accessible through the main entrance to the dune itself (paid parking in season). One can also choose to go around it by taking the road along the basin towards Arcachon and down small discrete steps. Contrary to what one might think, what with the excitement prevailing at the top, the place is known for its calm and small waves that are well suited to younger people. However, the seabed is quickly deep but the area is monitored in summer, which makes it one of the nicest places in the area.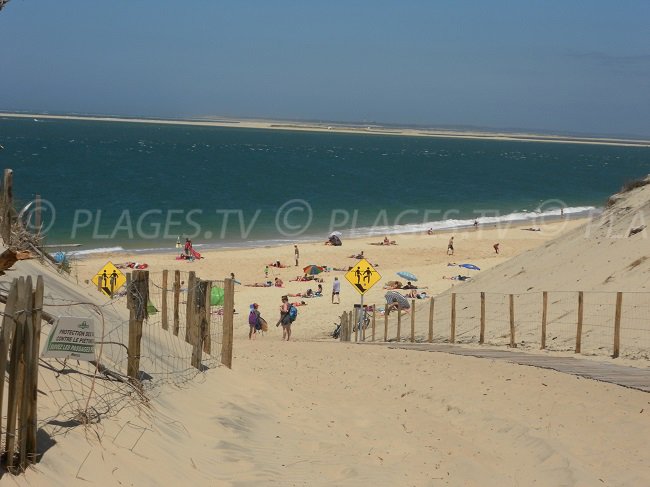 Petit Nice Beach seen from the road on the dune with Banc d'Arguin in the background
Petit Nice Beach is located further south, after the dune of Pilat (located next to the dune of Gaullouneys), opposite Banc d'Arguin. The site is beautiful even if erosion affects more and more this beach in the Gironde region; by sector the dune fell 45 meters in 2013. The surrounding area is well equipped with a large shaded park in the forest of La Teste. Nearby, Lagune Beach is less affected by erosion (for now). There is also a nudist area, the closest south of Arcachon Bay.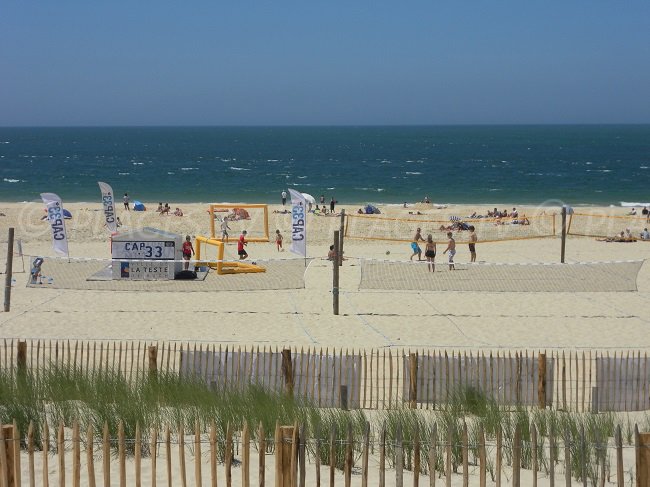 Numerous activities on Lagune Beach