The village of La Flotte on the Island of Ré is ranked among the most beautiful villages in France. It is located east of Saint-Martin-de-Ré, about 4 km away. The village center is structured around its small port with many restaurants and cafes. It makes one think of the village of St Martin de Ré, only smaller.
There is only one beach in La Flotte but it is, in our opinion, one of the most beautiful on the northern coast of the island of Ré. Arnérault Beach, located east of the village center along a nice promenade, offers a beautiful stretch of sand even at high tide. Near the city center, a wooded area with a lawn attracts many summer visitors. This beach is monitored with a first aid station in the center.
There is also a spa center on the seafront, perfect for those wishing to relax.
Concerning tours, the abbey of Châteliers and the Fort of La Prée are located at the village entrance. The Museum of Maison du Platin ("Platin" refers to the part of the Charente coastline exposed at low tide) is also a must-see. There are objects of the Abbey inside, as well as a reconstruction of an indoor habitat.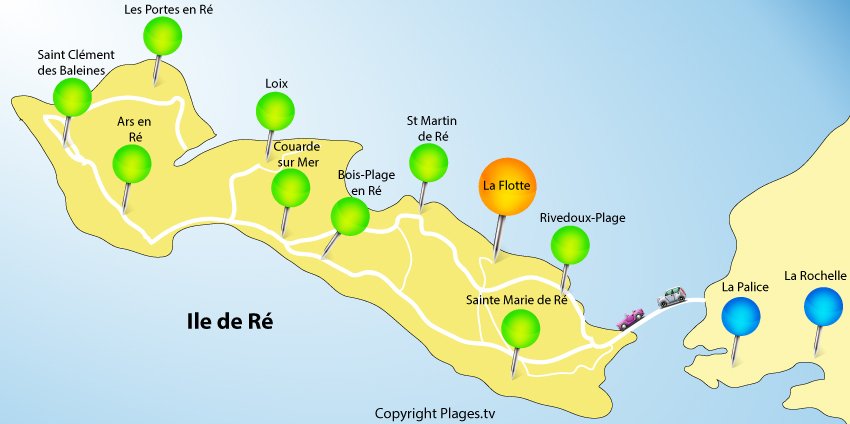 Carte de La Flotte et des villages de l'Ile de Ré