At the heart of the Pink Granite coast, lies the small town of Trégastel, placed on the coastal strip of Tregor. This region of Brittany in the department of Côtes d'Armor, inhabited since the Neanderthal by hunters and by the Celts, is full of forgotten treasures such as flint tools, funerary urns and many megaliths, menhirs and dolmens. In Trégastel, the most famous one is probably the one of Kerguntuil and the menhirs of Kérédol and Trémarch. You will also find two covered walkways, of Kerguntuil and Renote Island (actually a peninsula - accessible by car). It was at the time of the Celts that Brittany got its name, which means "the land before the sea".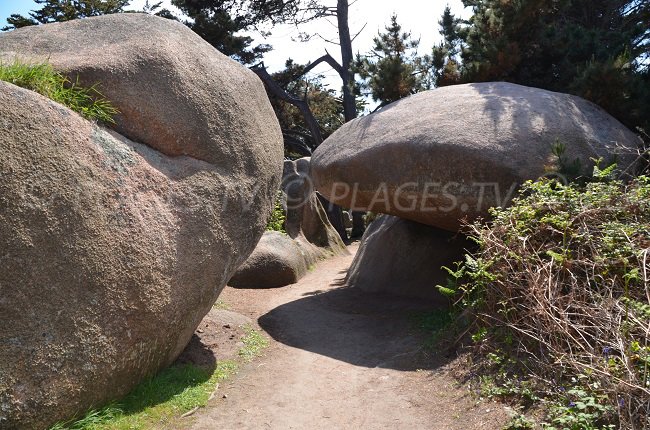 On the trail of Renote Island - exceptional environment
The village belongs to the county of Perros-Guirec, its neighbour, and small islands, sandy beaches and pink rocks can be observed as far as eye can see. The area has an ideal climate, mild in the winter and in the summer, favouring flora that you would not expect to see here and that should appeal to walkers and nature lovers: mimosa, rosemary, lavender, camellias ... Another walk, the one of Vallée du Grand Traouiéro, described as mesmerizing. Golgon and Sainte-Anne chapels are worth a look, such as the "Calvaire de Trégastel" and the "moulin à mer" (sea mill).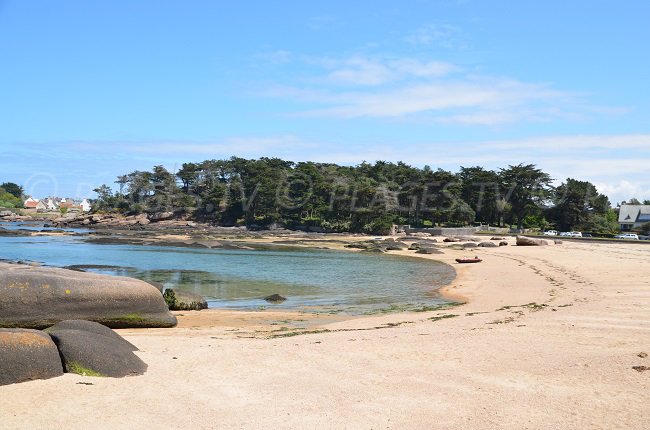 Tourony Beach: a beautiful sandy bay
Trégastel offers a wide range of beaches! Tourony Beach is the closest to Perros-Guirec. It is located in the same bay asPloumanach's Saint-Guirec Beach. It offers the same type of rounded rocks, typical of the Pink Granite Coast. To the west, in the same bay, Renote Island offers a multitude of small beaches. In our opinion, Ti al Lia Beach is the most pleasant one.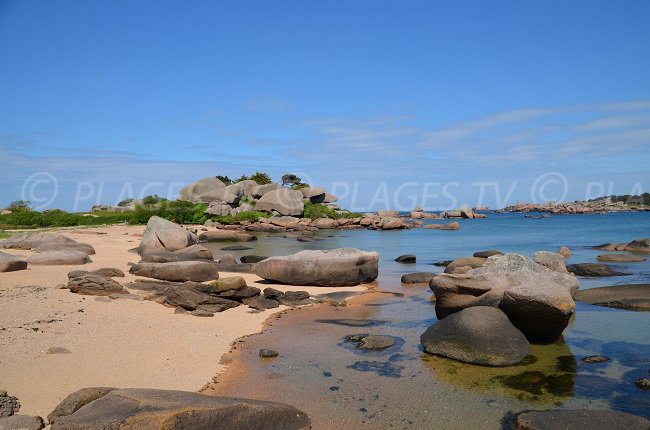 Is it in France? Yes! It is a cove on Renote Island
Nearby, there is also the Croz-Pors Beach which is located in a nice area close to the sea aquarium.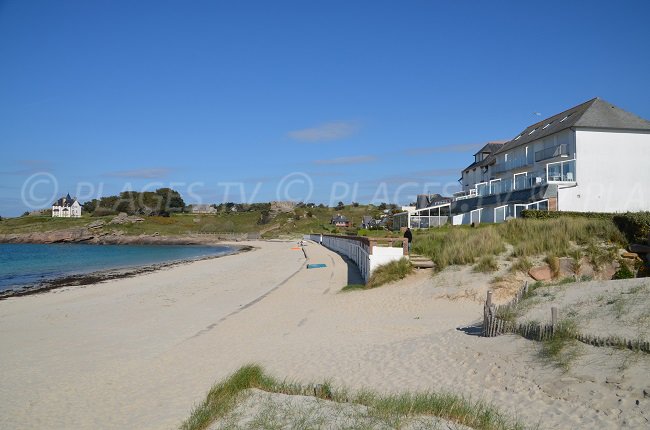 Grève Blanche: one of the most beautiful beaches of Trégastel
Heading west, we find the Grève Blanche which is a large white sandy beach facing the "Ile aux Lapins" that can be visited at low tide.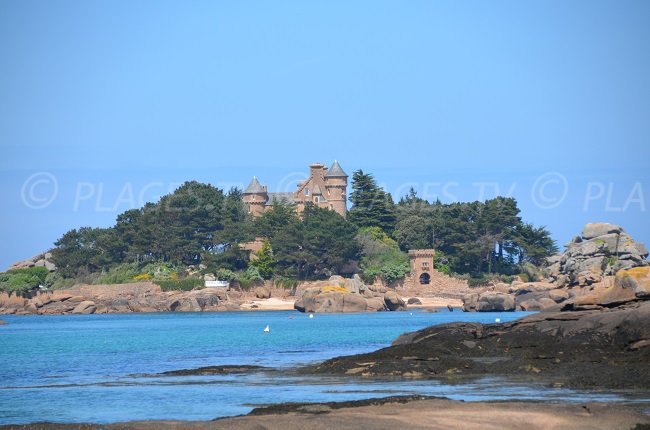 Costaérès Castle from the Tourony Beach in Tregastel
Kerlavos Manor dating from the XVI century and the Costaérès Castle (XIX century) cannot be visited but are beautiful and easy to observe. The latter is often found on postcards because of its construction on an island.
Trégastel is a preserved place. A must-see in Brittany!