Beaches, coves and seaside resorts in Côte de Granit Rose in Brittany - France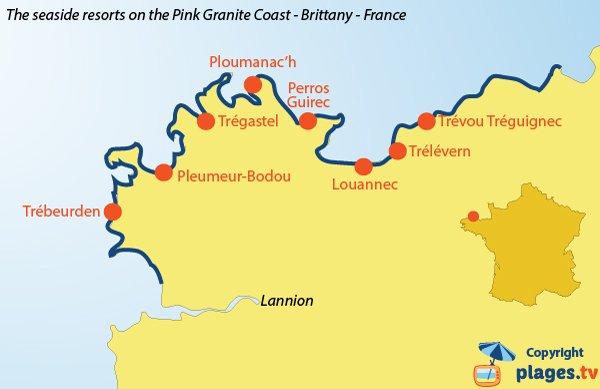 Côte de Granit Rose (Pink Granite Coast) is located northwest of Brittany between Trébeurden (north of Lannion) and Trévou-Tréguignec. This is one of the most beautiful coastline and especially the most original in Brittany. It owes its beauty and reputation to the oddly shaped pink large rocks.
There is a lot of beaches and coves on Côte de Granit Rose. Largely covered in sand, with pinkish hues, the different beaches offer unique settings and total escape.
This part of the coastline is very touristic and busy in July and August. Perros-Guirec is the most famous city, but we prefer Ploumanac'h with the bay of Saint-Guirec where we feel at the end of the world. We also love the Island of Renote (it is opposite St Guirec) and the lively Tresmeur Beach in Trébeurden in summer.
The surroundings of Côte de Granit Rose are worth a visit, we advise you to consult the list of the seaside resorts in Brittany that we have visited. You will find the perfect destination.
Click on the title or image for more details on the beaches of Côte de Granit Rose