Beaches in the calanque between Marseille and Cassis - Reviews, photos and map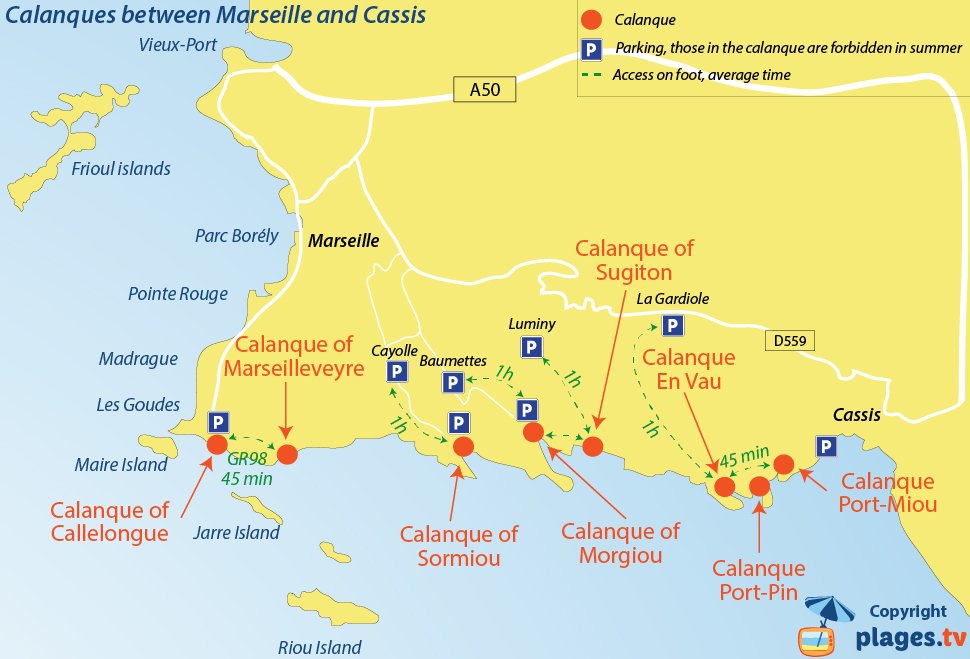 The calanque between Marseille and Cassis are one of the wonders of the Mediterranean. Access is restricted depending on the season (see details on the various reviews).
The creeks of Marseille
Off-season (September through May), car access is possible in three creeks (Sormiou, Morgiou and Callelongue but there is no beach on the latter). There is a car park directly in the creeks with a right of access. In summer, because of the crowds, the car parks are reserved for residents and restaurants. One therefore needs to park in nearby car parks approximately 1-hour away on foot.
The creek of Marseilleveyre is accessible from Callelongue cove by walking one hour on the GR98.
Sugiton creek does not have a car park. One usually reaches it by parking near the Luminy university center (1-hour walk, some difficult passages).
The creeks of Cassis
Three coves are accessible from the peninsula of Cassis(extremely difficult to park in summer and on weekends). Port-Miou is the easiest to access (about 10 minutes on foot from the car park) but it is not interesting to swim there, as it is a port. One can reach the creeks of Port-Pin and En Vau, which are among the most beautiful, in an hour through the path of the Douaniers.
Note there are no nudist coves; those of Pierres-Tombées are prohibited for years following a tragic accident.
Note that there are also creeks on the Blue Coast (north of Marseille). The archipelago of Frioul is also integrated to the creeks of Marseilles. Further east, there are also some easily accessible creeks in La Ciotat and Saint Cyr sur Mer.
The calanque between Marseille and Cassis - Photos, notices and instructions to get there
Calanque of Port-Miou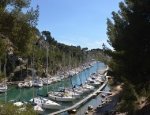 Cassis
Calanque Sormiou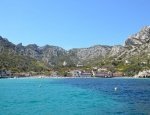 Marseille