The seaside resort of Veules-les-Roses has the peculiarity of being traversed by the smallest river of France, the Veules, about 1 200 meters long, which ends in the sea in Veules-les-Roses. It is a small village in Haute-Normandie, twenty kilometres southwest of Dieppe. The place is very famous and popular, and it is advisable to park your car in the large car park at the entrance of the town. From there, a small path leads down to the sea where you will find the beach and the village. This is a good way to discover the seaside and its cliffs and by-passes the hustle and bustle of the town centre.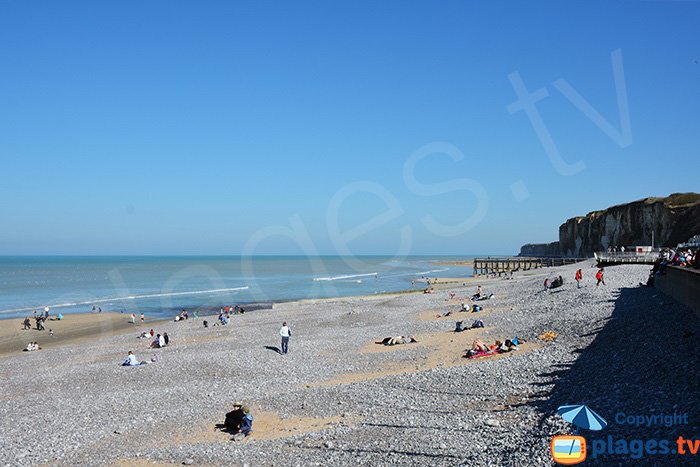 Veules les Roses sandy beach which is discovered at low tide
We can certainly say that space has really been "optimised"! Indeed, it took advantage of the little space left at high tide, Veules the Roses pebble beach is very small and can only accommodate the beach huts that are built on the side of the cliff and on several levels. From there, the view of the Albâtre Coast is beautiful. This name comes from the white colour of the coastal cliffs. At low tide, the place is very different, and there is even sand. It is possible to eat on the beach or in the village centre.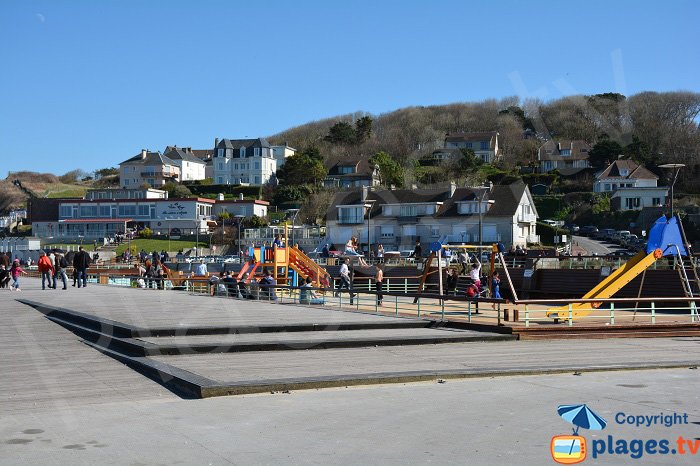 View of the village from the waterfront with a playground for children
Veules-les-Roses, as the name suggests, is a very flowery place, especially roses, which complements the beautiful houses in the village. Walking along the Veules is especially nice, you discover houses and cottages, the half-timbered houses and villas with gardens and small bridges that cross the river and a harbour with stairs to access the houses. This is a very refreshing place where you can see a water mill. It is very relaxing.
The village centre is often crowded, this is where you will find the restaurants and art galleries that Veules-les-Roses is renowned for, but if you move away a little, you quickly find tranquillity by browsing through the streets. Thus you will find the Church of St. Martin and the ruins of the St. Nicolas church. Do not miss the memorial of Victor Hugo who often stayed in Veules-les-Roses. The place is ideal for strolling aimlessly and to discover the architectural and artistic wonders.