Creeks and beaches in Esterel - South of France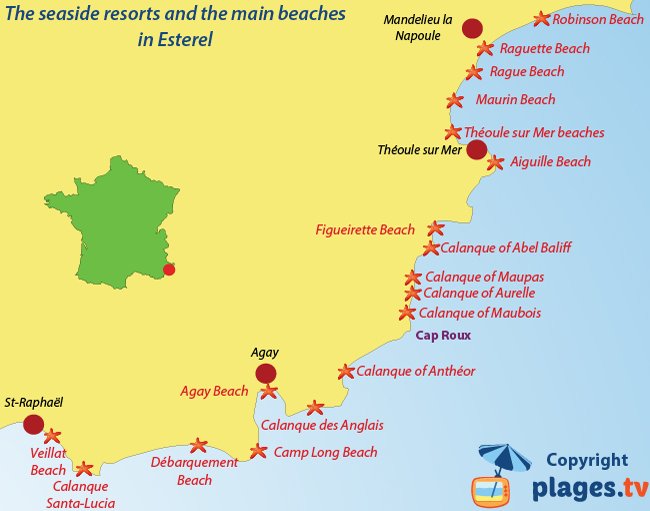 The igneous rocks of the Esterel Mountains stretch from Saint-Raphael in the East (department of the Var) to La Napoule in the west (Alpes Maritimes). Bordered by the Corniche d'Or, the car journey is beautiful. Cliffs of red porphyry fall steeply into the sea and form the magnificent creeks of the Esterel.
The most beautiful creeks of the Esterel are located just outside Saint-Raphael, after Agay and to Théoule sur Mer. There are small red pebble beaches, usually accessible by stairs. Please note that swimming is not monitored.
There are also a few nice beaches and secret coves in Saint Raphael. Our heart goes to the sandy beach of Camp Long in Dramont. The environment is very pleasant. The large beach of Agay nearby offers a wide stretch of sand before reaching the pebble creeks.
One reaches the beaches of the Alpes Maritimes from Théoule sur Mer. The relief is less rugged and one can find sandy beaches.
The calanques and beaches in the Esterel (Alpes-Maritimes and Var)
The various beaches and creeks of the Esterel - Click on the picture or on the name of the beach to find out.